"EYE DOCTOR with 50 years experience Treating Macular Degeneration, releases his Liquid Eye Product Eyes-N-MORE® to the Public and Medical Society"

"With Proven Effective Ingredients for Treating DRY Type Macular Degeneration"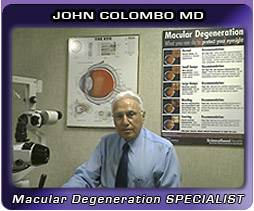 TESTIMONIALS

"SEE" What People Are Saying About
Eyes-N-More!
"Swallowing Pills was difficult for me and this product has been a godsend. Now all I do is take my capful in the morning and feel great all day! I used to spend about $130 each month on supplements and no longer take anything but eyesnmore."

I recommend this product!

KC, Michigan
About Us


John Colombo, M.D. is a member of the American Academy of Ophthalmology and the American Academy of Anti-Aging Medicine, and a practicing Ophthalmologist. He has specialized in the study of Age-Related Macular Degeneration and its association with whole body health for over 50 years which has led to his development of the very unique formula known as Eyes-N-More®.
Ophthamax, Inc. Makers of Eyes-N-MORE

Phone: 586-777-8000

EastPointe, Michigan 48021

E-mail: drcolombo@eyesnmore.net